Does your frozen fruits small like meat? Do you have a cluttered unorganized fridge?
The Vacuum Food Sealer

 

is cutting edge in food preservation technology! Simply put all the food you want to keep stored nice and clean in a bag and the vacuum does the rest! Sealing it tight and vacuuming all the oxygen out to keep your food fresh and dry. No more fruits going to waste, with this vacuum technology you can store food for way longer and in a much more fresh neat casing!
Choose the food
Vacuum Sealer kit
and enjoy storing your fruits,
dough
, or even
soup
, in a healthy and more effective way, how crazy is that!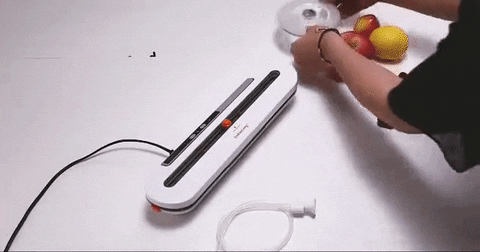 Key Benefits:
Keeps your fridge

 

odorless 
Keeps your meat, beans dough

 

pastries even bread

 

fresh

 

for a long time.
Keeps any type of food whether it's

 

cooked or raw

 

fresh and tasty.
It has a  Sealing Length of

 30cm and it's used with sealing bags.

Ιt comes with

 

10 bags