Would you like your child to learn and develop while having fun? The Toy  Projector will  change their lives ! This fantastic product allows you to develop the creativity of your sons and daughters while having fun . This toy allows your child to express himself artistically.
The paint projector is a fun and easy way to draw! Turn off the lights, turn on the projector, insert a slide and trace. Then color or paint the image.
Super effective for exercising coordination from a young age!
WE HAVE A LIFETIME WARRANTY
👍 DEVELOP YOUR CHILD'S SKILLS @  Develop color perception and imagination capacity. Exercises and encourages the use of hand, eye and mind coordination.
👍  INTERACTIVE  Project images that your child can paint along with the image. Make playtime fun with this cute educational projector, this will help and encourage children to learn to draw, paint and trace while having fun.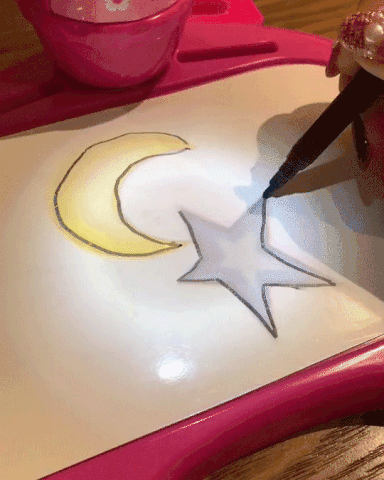 👍  INNOVATIVE DESIGN Attractive and durable, fashionable and stylish smart toy. Innovative light projector technology. 
👍  MUSIC  It has friendly melodies to keep the attention of your children while they have fun drawing and learning.
👍 EASY TO  HANDLE  The projector folds flat for easy storage.
👍  SPECIFICATIONS:
Material:  ABS plastic
Size:  25cm x 21cm x 35.5cm
Colors:  blue and pink
👍 PACKAGE INCLUDES : 
1x Drawing table
3x Drawing patterns
1x Eraser
1x Blank Drawing Book
12x Pencils